What our parents say:
The views and opinions of our parents are vital to help us form sound relationship with them to improve our kindergarten and so we are proud and thankful that so many of them are willing to share their thoughts and children's experiences with us. Below are some heartfelt words by parents of Cedan…
JoyceMother of Jayden & Shannen
"Wow, look no further" was my first thoughts after I visited Cedan Child Development Centre. I was extremely impressed with the Principal, Mrs Poh's passion. And I liked it that she teaches the younger children personally. Besides the advanced academic programmes that prepare the children way ahead of their primary school journey, the Centre also imparts and shares the necessary social skills through their daily interactions with their teachers and friends. Both my children have no problems adapting to their primary school-life; it was all so breezy for us. The teachers in Cedan are long-serving and dedicated, with no turnover. Through our 4 years with them, we only saw one teaching assistant who left to upgrade herself. My children have learned happily and fruitfully from the teachers in the Centre. A simple concoction of a happy child – positive loving environment + passionate and dedicated teachers = a happy child who enjoys going to school.
Thank you Mr & Mrs Poh, Teacher Shirley,冯老师!
Mr & Mrs TanParents of Liv, Reeve & Reed
After some amazing years in Cedan, the time has come to say Goodbye. We had always felt completely reassured when dropping off our three children (Liv, Reeve & Reed) every morning because we knew they were in a safe and stimulating environment. The environment is nurturing and they had learnt so much from your impressive academic curriculum. The teachers took a very proactive and caring approach to our children's development. Regularly, the teachers provide us with feedback about our children. They took great pride in sharing our children success stories and milestones. We could not be happier with the level of care and attention they had lavished on our children. Thank you to the entire team of Cedan who gave our children the foundations of learning that will follow them throughout their life! We like to express our gratitude and appreciation for all your immense hard work and dedication. We wish Cedan continued success in each and every young life they touch.
Mr & Mrs Shyam Kumar Menon Tanusha's parents
Our daughter, Tanusha Menon graduated last year (2014), after 3 and half years with CEDAN Child Development Centre. Initially shy and awkward, she has come a long way, after her formative years with the Centre. She has blossomed into a confident, independent and eloquent child with the unwavering support and guidance of the Centre's Principal (Mrs Poh) and the teachers. The environment of the Centre is very conducive for learning and lessons are conducted in a fun and enjoyable way. Tanusha is adjusting very well in P1& we are very thankful to all of you. Thank you and we wish the Centre every success in the coming years.
Anita & RobinParents of Jadon
Our son, Jadon has attended Cedan since his pre-nursery. Jadon is a happy and thriving child willing to learn more. When I met the principal and discussed about the school and the curriculum, I decided this was the environment I always wanted for my son. Teachers and the principal are very friendly and the same time very firm when comes to discipline and studies. They are very supportive and caring and always there to guide the parents in the upbringing of the child. They also identify the potential of every child and at the same time remain focused on the class as a whole. Thank you Cedan for helping us raise an independent learner and wishing the school the very best to continue with their good work.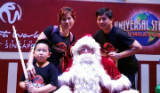 Yue HuiJavier's Mum
Javier has been attending the centre since he was two and he has been enjoying himself and learning a lot. Prior to sending Javier to the centre, I had sent him to a child care centre but he could not settle down and I ended up taking him out of the childcare and I was worried when I first sent him to Cedan but to my surprise, he settled down within the first week. I must thank Mrs Poh, Teacher Shirley and also Feng Lao Shi for their effort, care and concern.
Lim Yeow Seng & LizaParents of Elsie
We appreciate Cedan Child Development Center, the teachers are well qualified, caring and professional. Our daughter Elsie right now in the Primary 1, her teacher chose her as a class monitor, according to her form teacher she have a potential to become a leader. Back then, we started to put her in Cedan when she was 3 and 1/2 years old she was a very shy type girl and scared to strangers. But over the years we have observed that our daughter had changes. She no longer scared and can talk confidently. She really benefited tremendously through its well planned course curriculum and dedicated teachers' teaching pedagogy. Not only that our daughter has a head-start in her language abilities. Cedan had really worked tirelessly to organize exciting and engaging program to grow her "senses" in life skills and knowledge. The interactions with teachers and children through Holiday Program greatly enhanced our daughter entire learning experiences. Thank you for giving us parents peace of mind when we leave our dearest daughter the best Early Childhood Education with you. Once again thanks all staffs from Cedan Child Development Center for everything that you have done for our daughter. All the best!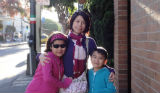 Gilbert & JoyceParents of Ashley & Ashton
Both my children, Ashley and Ashton aged 7 and 11 respectively, have benefited much from Cedan's developed learning, enrichment classes and educational tools and they were to carry on with them the instilled knowledge even as they go through their primary school education. The teachers there have been utmost caring, attentive and genuinely enthusiastic with children and my kids were always with smiling at the end of the day when I picked them up from the centre. I am glad my children have been very happy and well loved during their preschool days in Cedan. They have grown to cope with real life challenges having been through a nurturing, caring and inclusive learning environment. We felt fortunate, relieved and thankful that we have found a qualified and devoted preschool, and my children have enjoyed themselves in the centre as preschoolers.
Mr & Mrs KhanParents of Shafana Khan
At Cedan, the teachers are really warm and friendly. They emphasize on learning as an ongoing process and strike the right balance between work and play. They helped my child settle down with ease and she is always looking forward to school. The principal, Mrs Poh is very involved with kids and always helpful. Whenever you speak to her you realize how passionate she is towards her work and with the kids. Overall it has been a fun-filled experience at Cedan.
Mr & Mrs DevaParents of Arshia
I would like to take this opportunity to thank you all for coaching my daughter, Arshia Evangelina in her academics. She has improved tremendously in her reading, understanding of words and she is able to identify pictures. Her essence of her education has brought her to a greater understanding within a short span of three years. Thank you for being excellent educators. We know teachers like you are not easy to find. We appreciate your time, patience and your ability to make a dry subject interesting. We feel privileged to have gotten teachers like all of you for my daughter this year. You have helped to get her organized, motivated and above all, interested in learning, which is no small feat. Our whole family would like to thank you.
Mr & Mrs NgParents of Mabel & Constance
Our 2 daughters were with Cedan preschool a few years ago. They are both now in P6 and P3 this year. Cedan provide them with strong academic foundation with specialise programme designed for the pre-schoolers and my children are able to cope with the school assessment with minimum supervision. Cedan have experience and passionate teachers that we can trust and till today, our children still miss them very much. Thanks to Mr and Mrs Poh, Teacher Shirley and 冯老师. Mabel, our elder daughter has managed in maintaining her top 25% in her school academic performance with the strong foundation since young. Our younger daughter, Constance, is also one of the top 25% and also awarded with the good progress nominated by the school during Primary 2. Thank you Mr and Mrs Poh. We are glad that we have entrusted our children with Cedan.
Mr & Mrs WongParents of Lily & Jun Han
我对诗唐的教学方案和老师对孩子教导方式非常满意,女儿之前在别间托儿所读到K1都认不了几个字,基本以玩为主,后来转到诗唐很快会自己念故事书 ,学习各方面都都进步很多,K2毕业基本学完小一小二的课程,之后进入小学我基本不用操心她的功课,她自己都可以应付 成绩也很好,到了小三顺利进入A班。儿子到了入学年龄当然还是选择诗唐,刚进入学校时说话各方面都比别人慢许多,通过老师长期与我的交谈,让我能够及时了解儿子在学校的学习情况与不足,也让老师了解孩子在家中的表现,达成学校家长齐抓共管的共识,这种负责任和耐心的教学方式很多学校做不到,现在儿子基本可以完成学校功课,进步很大,真心感谢诗唐的各位老师!"
Manasi & Sandeep Joshi Parents of Joshi Swara
It is with great pleasure that I write this testimonial for Cedan Child Development Centre (Enrichment). Over the past 4 years I had My Elder Daughter Swara attend Cedan and to say she has enjoyed her time there is an understatement. She thrived in this environment. Mrs Poh and her wonderful staff make each and every child feel special and unique whilst providing them with the special and academic skills needed as they make the transition from pre-school to "Big School" which is a big change here in Singapore. I didn't need any special classes for my daughter before entering Pri. 1, as Cedan's syllabus is so well designed that students don't need anything. This is exactly what I as a parent want for my children. The genuine affection and concern that the staff show the children at the centre truly makes Cedan a child's "home away from home". I know it is rare to find a pre-school with all these outstanding qualities which is why I cannot recommend Cedan enough to friends, family and anyone who wants a wonderful caring and nurturing learning environment for their child. I look forward to many more happy years at Cedan with my younger one ready for kindergarten.
Fiona LauMother of Celine & Cedric Chong
Mrs Poh and her team have years of experience in pre-school education. School Curriculum is well designed to support and develop children's character, talents, skills, values, leadership and creativity. It provided a very strong foundation for my children, Celine Chong graduated in 2009; Cedric Chong graduated in 2011, when they started their primary 1. Most important is they care and love the children.